8:00pm $20.00
Formed in New York in 1996, Fountains of Wayne took its name from an iconic garden store in nearby Wayne, NJ (which, sadly, closed recently). The band has received steady critical accolades since its inception; "Dean Of American Rock Critics" Robert Christgau has called them "lyric poets" and "true art heroes." The group's line-up, which also includes guitarist Jody Porter and drummer Brian Young, has remained unchanged since they toured in support of their 1996 self-titled debut album. FoW were nominated for two Grammys, including a slightly belated Best New Artist nod, in 2003, after scoring a hit with their third album, Welcome Interstate Managers.
---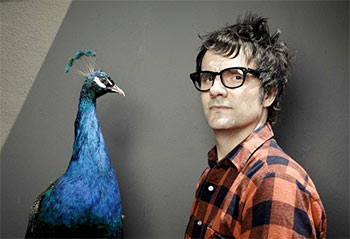 A prolific Los Angeles-based singer, songwriter, producer and recording artist, Mike Viola first came into the national spotlight as founder and frontman of the Candy Butchers. After 3 albums with Sony/RPM, Mike became known for not only creating music for award-winning films ("Get Him To The Greek," "Walk Hard," "That Thing You Do!"), but also writing and producing for other artists (Mandy Moore, Rachael Yamagata,Tim Christensen, Gin Wigmore, Karise Eden).
Mike's latest release is "Acousto De Perfecto". It is a companion to last years critically acclaimed "Electro De Perfecto". These 2 LPs mark the beginning of his new start in Los Angeles. "Electro" is a classic POWER POP trio album featuring the drummer Victor Indrizzo (Sheryl Crow, Alanis Morissette, Beck) and bassist Sean Hurley (John Mayer, Alicia Keys, Miley Cyrus). Electro was recorded fast and dirty in the studio with minimal overdubbing giving the record it's inherent nastiness sonically, lyrically, and melodically. "Acousto De Perfecto" is Electro's quiet counterpart. The Sunday morning after the dark Saturday night. Mike on acoustic guitar only, joined by Eric Summer and Kate Reddish on viola.