8:00pm $10.00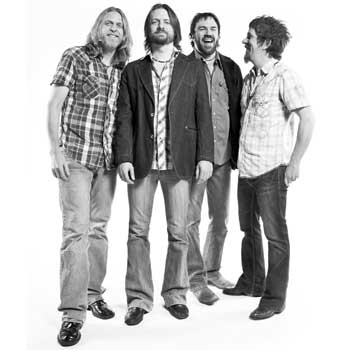 Although The Steepwater Band got their start as devotees of delta blues, they have since been expanding on their influences taking on everything from psychedelia to Americana, and of course, rock and roll music. Formed in Chicago in 1998, the band's signature sound is at once a nod to earlier rock n' blues combined with a raw and gutsy musical approach. Founding band members Jeff Massey (vocals & guitar), Tod Bowers (bass) and Joe Winters (drums) have a synergy that comes from years of playing together. In early 2012 the long-time trio have been joined by Eric Saylors (guitar & bk vocal), from Indianapolis, IN. Mr. Saylors brings an added depth to the TSB LIVE sound, where the foundation laid by Bowers & Winters leaves the space for the guitars to soar and vocals to shine. Massey always performs with a passion that can belie his virtuosity, while being true to the song at hand.
The band's infectious energy is equally evident in their live performances, as critics and fans hail their shows as forceful and intoxicating. It is their humble devotion to music, and a commitment to achieving their musical goals without compromising the integrity of their musical vision that make The Steepwater Band such a refreshing find. In 2010, the band released the highly lauded live record entitled "Live at the Double Door" which contained tracks from their previous two LPs, "Revelation Sunday (2006)" and "Grace and Melody (2008)."
The Steepwater Band has maintained a grueling schedule throughout the last 10 years, averaging about 125 shows per year. They have toured and shared the stage with acts such as Gov't Mule, Buddy Guy, Wilco, Taj Mahal, Marc Ford, ZZ Top, T-Model Ford, North Mississippi All Stars, Leon Russell, Drive-By Truckers, Robert Randolph & the Family Band, Cheap Trick, Bad Company and Heart. In 2005, the band made its European debut, performing at the Azkena Rock Festival in Vitoria-Gasteiz, Spain. In the following years, the band has returned to the United Kingdom and Europe for multiple club and festival tours, increasing their loyal overseas fan-base.
---
Ed Anderson and Scott Tipping have been making music and mayhem together since the late '90s, when they hosted an open mic featuring drunken jazz artists, angry poets and puppeteers.
Ed moved on to found roots rock trio Backyard Tire Fire in 2001. Through the 2000s, the band toured relentlessly, recording 5 albums and 2 EPs.
Scott went on to become a mainstay of the Chicago music scene, playing and touring with bands like Mighty Blue Kings, Peter Himmelman, The Steak House Mints and Dayna Malow.
Their paths crossed again in 2008 when Ed asked Scott to join Backyard Tire Fire on tour to round out the band's sound. BTF's album Good To Be, produced by Steve Berlin, saw them touring the country, headlining shows and opening for the likes of Los Lobos, Buddy Guy, ZZ Top and Cracker.
In back alleys, dank hotel rooms and a van that at least once tried to kill its masters, a new music partnership was formed, and when Backyard Tire Fire decided to take a break from touring, Scott and Ed chose to bring together some of their favorite Chicago musicians to work on new songs: Steve Gillis (drums), Scott Stevenson (keys and vocals) and Matt Thompson (bass).
The new project features songs by both Ed and Scott, staying true to the rock-and-roll tradition of BTF while transitioning into a more dynamic, harmony-oriented sound.