April 8, 2013
John Medeski In Concert, Solo Piano
8:00pm $25.00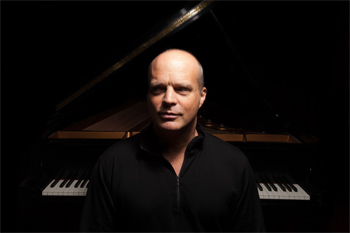 "Solo concerts allow me to go deeper, to enter an inner universe, and bring some people along for the ride," says keyboardist John Medeski. "You can work with sound and rhythm in a different way than in a band setting. It allows for a much more intimate experience."
The celebrated musician, whose work with the trailblazing instrumental trio Medeski Martin & Wood and countless other collaborators has set a standard for soulful improvisation, has been preparing his debut solo piano album that he says will kick off a series of such recordings, and is planning a suite of solo performances.
These creative excursions will no doubt elicit more praise like that bestowed by Chicago Tribune arts critic Howard Reich, who wrote of the 2005 Chicago Jazz Festival: "The revelation of the show came early, when pianist John Medeski ... played a stunningly original solo set, establishing the virtuosity of his technique, the alacrity of his imagination and the depth of his knowledge of jazz history."